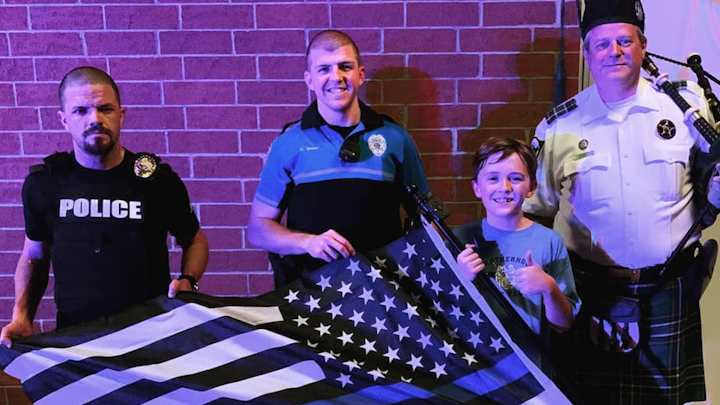 Running 4 Heroes
SEMINOLE COUNTY, Florida -- Zechariah Cartledge has run 295 miles in 2019 for a sobering cause.
The 11-year-old Seminole County boy is at the center for a nonprofit organization called Running 4 Heroes, and for almost a year, he's been running one mile for every first responder who has died.
"Running 4 Heroes started with a kid, an appreciation for our First Responders, and a mission to raise awareness and funds for those fallen in the line of duty," reads a statement on the group's website at running4heroes.org. "Zechariah Cartledge was born with the gift of running. He was raised with an appreciation for First Responders and all they do for the community. As he grew older, Zechariah decided to help the families of our fallen First Responders in a meaningful way. Encouraged by the mission and vision of the Tunnel to Towers Foundation, Zechariah began his journey raising funds for those families by running."
The group maintains a tracker on its Facebook page as well. As of Nov. 11, 2019, for the year, Zechariah's 295 miles run is for 108 fallen law enforcement officers who died in 2019 as well as 139 for those who died in 2018 plus 1 mile for a severely injured LEO, 32 for fallen firefighters, 6 miles for other heroes and 5 miles for fallen K9s.
"Our First Responders do so much for us. I want to let them know they are appreciated," reads a statement on the website.
His most recent run was on Monday to honor the life of Jonathan Diaz, who died Nov. 2, 2019 on duty with the Lemoore Police Department in California.
"He leaves behind three siblings, three children and parents," he said in a Facebook Live video on Monday. "Today I'll bring the blue line flag in his honor. I'll be doing seven laps around my school loop which is the equivalent of 1 mile for him tonight."
Donations to the group go to purchase American flags that Zechariah runs with, and are then presented to the families of the fallen first responders.
The group has an upcoming free 5K on Dec. 8 from Valencia College's East Campus in which Zechariah will run 3.1 miles, with the first mile to symbolically honor every LEO lost outside the line of duty, the second mile for firefighters lost outside the line of duty and the third mile for every first responder lost to suicide.
"In 2019, over 150 First Responders lost their lives in the line of duty. In that same year, more than double that lost their lives outside the line of duty with nearly 200 First Responders taking their own life due to suicide," reads the details for race, which will not be timed, nor have medals. "This free run is taking place as a way to honor the lives of those First Responders lost outside the line of duty as well as raise awareness for suicide and provide resources on preventative measures for our First Responders."
Donations to the nonprofit are set up at https://secure.anedot.com/running-4-heroes/donate
———
©2019 The Orlando Sentinel (Orlando, Fla.)
Visit The Orlando Sentinel (Orlando, Fla.) at www.OrlandoSentinel.com
Distributed by Tribune Content Agency, LLC.