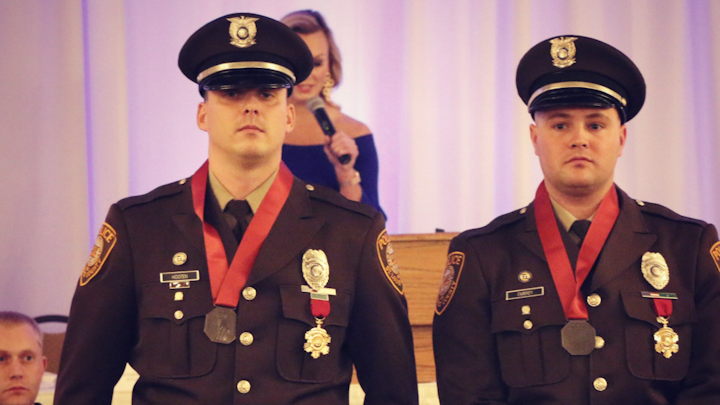 St. Louis County Police Department
ST. LOUIS -- Twenty-seven local officers were awarded medals of valor on Thursday, sponsored by the St. Louis Area Police Chiefs Association and The Crusade Against Crime of America, at the Orlando Gardens banquet hall in south St. Louis County.
Officers were commended for gun battles, fiery rescues and hostage negotiations, among other heroics.
North County Police Cooperative Officer Michael Langsdorf won posthumously, after being fatally shot by a man he was trying to arrest at a convenience store in Wellston.
Others honored include:
St. Louis Police Department Officers Glennon Frigerio, James Zwilling, Callahan Hereford, Joseph Rodriguez, Austin Ramsey, Dwight Meeks, Michael Opfer, Nicholas Manasco, Zachary Opel and Ross Devereux
St. Louis Police Department Detectives Orie Figgs, Stephen Walsh, Bryan Lemons and Matthew Burle, Jason Brandhorst and Kyle Santa
Maryland Heights Police Department Officers Cliff House, Kevin Devine and Peyton Archer
St. Louis County Police Department Det. Kevin Martin
U.S. Marshal's Service Deputy Marshal Sean Mallon
Jefferson County Sheriff's Department Sgt. James Kausler and Det. Wililam Scott
Bridgeton Police Department Officers William Soppe, Andrew Standiford and Jeffery Piant Jr.
———
©2019 the St. Louis Post-Dispatch
Visit the St. Louis Post-Dispatch at www.stltoday.com
Distributed by Tribune Content Agency, LLC.