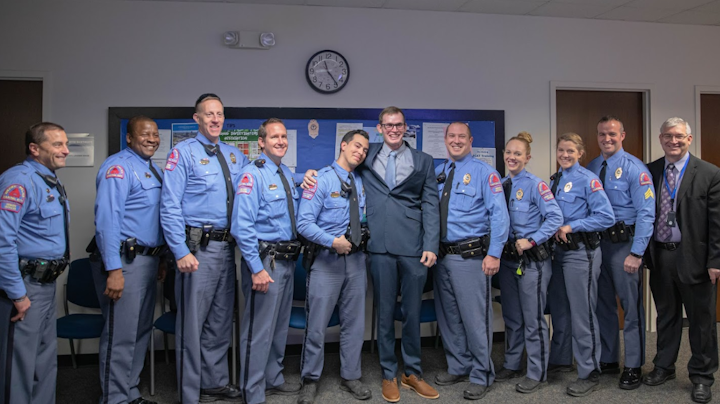 Raleigh Police Department
RALEIGH, North Carolina -- Exactly one year after Raleigh Police Officer Charles Ainsworth was shot several times, he returned to work Thursday for the first time and was greeted with a hero's welcome and a standing ovation.
His fellow officers stood in two lines, creating a path for a patrol SUV to travel through the entrance of the Raleigh Police Headquarters on Six Forks Road.
As he emerged from the SUV, he stood upright, dressed in a crisp suit. He took small but assured steps and buttoned his suit jacket as he shook hands with his fellow officers.
It was a remarkable moment for Ainsworth, 26, who was shot at close range while responding to a call of a stolen car on Jan. 9, 2019. The shooting left him severely injured and hospitalized for months.
"You have defied the odds, and your return today is nothing short of a miracle," said Assistant City Manager Marchell Adams David, who welcomed Ainsworth on behalf of Mayor Mary-Ann Baldwin.
While the extent of his injuries is unknown, the police department said in a statement Wednesday that he "has spent the past year recuperating from numerous surgeries, and training and strengthening his body and mind in anticipation of his return to service."
He will be assigned an administrative role, a spokeswoman from the Raleigh Police Department said.
Raleigh Police Chief Cassandra Deck-Brown did not attend, due to a prior commitment, but she commended Ainsworth's return in a statement Wednesday night.
"Officer Ainsworth's dedication, determination and resilience in the face of such overwhelming circumstances are an example to everyone," said Deck-Brown in a statement. "We are so thankful for the great strides and remarkable progress he has made in the past year."
A private reception for Ainsworth and his fellow officers followed the speeches.
DETAILS OF THE SHOOTING
Deputy Chief Karen Riggsbee said Thursday the day Ainsworth was shot remains fresh in the minds of police officers.
"I am sure most employees can tell you where they were and what they were doing when they learned that Charlie had been shot in the line of duty and was in critical condition," she said.
On the night of Jan. 9, 2019, Ainsworth was called to investigate a stolen vehicle on Teakwood Place, in a neighborhood off Western Boulevard. Ainsworth was joined by another officer, B.A. Halpin, and they encountered Cedric Kearney and Antonio Daquan Fletcher, The News & Observer reported.
Halpin told Kearney and Fletcher to show their hands, but Kearney started firing at Ainsworth "at very close range," according to a report from the Raleigh city manager. Halpin fired back at Kearney but didn't hit him, The N&O reported. Fletcher showed his hands.
Kearney, 25, of Henderson, is awaiting trial on charges of attempted murder, assault on a law enforcement officer with a firearm, robbery with a dangerous weapon and conspiracy to commit robbery with a dangerous weapon. Three other people were charged in connection with the shooting.
A LONG RECOVERY
Over the past year, Raleigh police have provided occasional updates on social media after he was released from the hospital April 26. Raleigh police tweeted a video Oct. 12 showing Ainsworth crossing the finish line of a 4-mile race.
On Dec. 23, the police department tweeted a 33-second video that shows Ainsworth working with physical therapist Cheryl Bennett.
"He's doing everything he can, and when it gets hard, he comes back and tries even harder," Bennett said in the video. "He's always rising to the challenge and keeps a good, positive attitude."
In the video, Ainsworth nods in agreement.
"Just stay in the fight, you guys," Ainsworth said. "I've definitely gotten into better shape. I have to give myself a six-pack."
Ainsworth graduated from N.C. State University in 2014 with a degree in psychology. After graduating from the Raleigh police academy in 2017, he joined the police department, The News & Observer previously reported.
———
©2020 The News & Observer (Raleigh, N.C.)
Visit The News & Observer (Raleigh, N.C.) at www.newsobserver.com
Distributed by Tribune Content Agency, LLC.