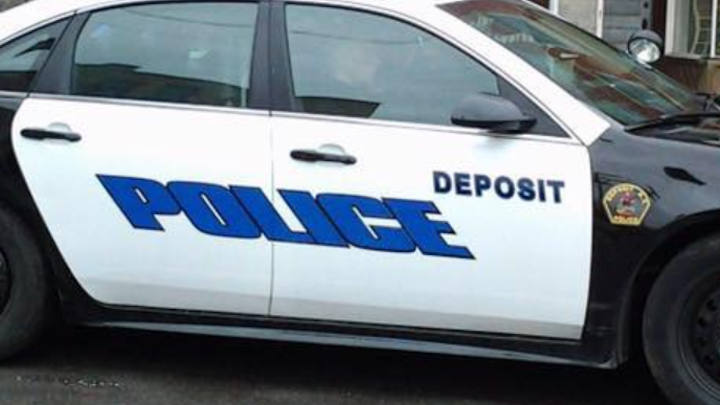 Village of Deposit Police Department
DEPOSIT, New York --The Village of Deposit police department and justice court will be dissolved effective March 1 after voters approved two separate propositions in a Tuesday referendum.
The vote to abolish the police department passed by a measure of 229 to 156. The village court was abolished by a measure of 235 to 150.
"The voters have spoken, and I hope our community can get back to business as usual," Village Mayor Bryan Moore said in a Tuesday email to The Daily Star.
In November, the Deposit Village Board passed local laws abolishing both services. The referendum was initiated last month after village residents presented the board with petitions in opposition to the laws.
Moore told The Daily Star in November that the propositions had been discussed for more than a decade. A 2005 vote on the matter resulted in a tie, so the police department remained intact.
"It's not just a budgetary issue, it's a reliability issue," Moore said, noting that a police force comprised of part-time officers often led to inconsistent coverage.
In the absence of its own police force, the village will negotiate contracts with the sheriffs' offices in Broome and Delaware counties, Moore said.
Delaware County Sheriff Craig DuMond said the department has not yet received a formal proposition from the village, but "plans are being discussed."
Because the village of Deposit is split between the town of Deposit in Delaware County and the town of Sanford in Broome County, the village is regularly patrolled by deputies from both counties, DuMond said, but each agency is only authorized to respond within 500 feet of the county line.
Once the village court is abolished, the town courts in both Deposit and Sanford will split its former jurisdiction, Moore said.
Both are located less than a half-mile from the village court, he said, and village residents currently pay taxes to support both the village and their respective town courts.
Both towns agreed not to raise taxes in the first year of reorganized services, Moore said.
Sarah Eames, staff writer, can be reached at seames@thedailystar.com or 607-441-7213. Follow her @DS_SarahE on Twitter.
———
©2020 The Daily Star (Oneonta, N.Y.)
Visit The Daily Star (Oneonta, N.Y.) at www.thedailystar.com
Distributed by Tribune Content Agency, LLC.