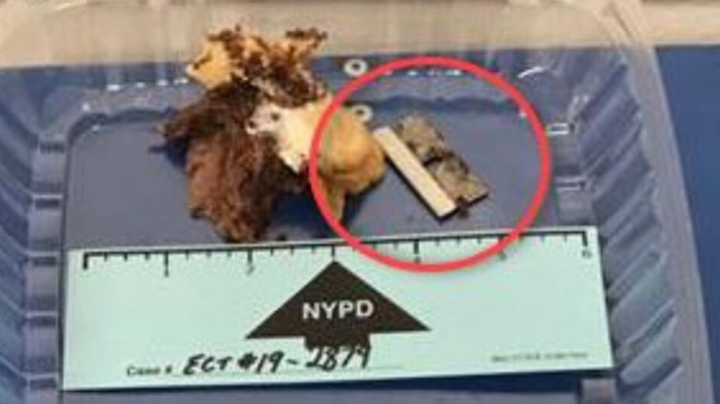 New York Police Department
NEW YORK -- An NYPD cop got a sharp surprise when he bit into a sandwich at a Queens shop and cut his mouth on a rusty razor blade stuffed inside, police said.
The officer, an on-duty member of the NYPD's Critical Response Command, purchased the Philly cheesesteak at Bon Appetit, a sandwich shop on Beach 129th St. in Rockaway Park about 4:30 p.m. Thursday.
The cop, a 24-year veteran of the NYPD, cut the inside of his mouth on the razor as he chomped on the cheesesteak. He was taken to Nassau Community Medical Center for a minor wound.
The officer was in plainclothes but arrived in a NYPD vehicle. Police are trying to determine if a shop employee knew the customer was a cop and planted the razor inside the sandwich or if this was a freak accident.
Police Commissioner Dermot Shea, in an angry tweet, warned that there will be "ZERO tolerance for acts of violence against our police officers."
"He'll be OK," Shea added. "But a full investigation into this abhorrent act is underway."
Pat Lynch, head of the Police Benevolent Association, said the incident is reflective of "the sad state of affairs in our city."
"Cops have to wonder whether we can safely eat a meal in the neighborhoods we protect," he added. "We cannot allow this disturbing incident to be swept under the rug. It must be investigated, and if it was anything other than an accident, those responsible need to be put behind bars."
DNA evidence was recovered from the razor and is being tested. Police also hope the store's surveillance system helps them figure out what happened.
Workers at Bon Appetit wouldn't comment.
———
©2019 New York Daily News
Visit New York Daily News at www.nydailynews.com
Distributed by Tribune Content Agency, LLC.