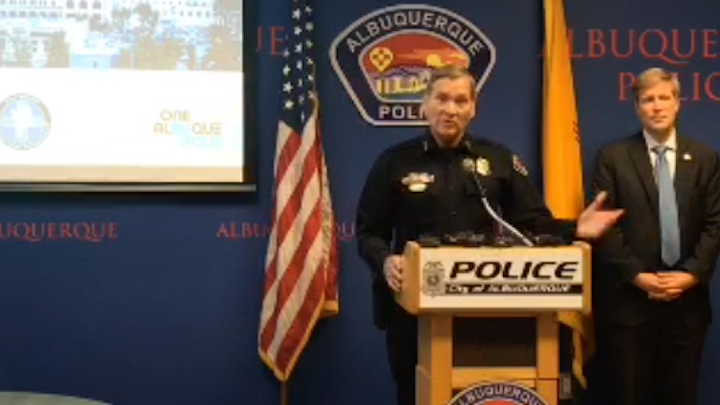 Albuquerque Police Department
ALBUQUERQUE, New Mexico — The Albuquerque Police Department is teaming up with local and statewide law enforcement agencies to identify and arrest the "Metro 15" – 15 people wanted on warrants that authorities have determined are drivers of violent crime.
At a news conference Tuesday, Police Chief Michael Geier said the operation is different from similar tactics because the agencies, including the Attorney General's Office, the District Attorney's Office, the Office of Superintendent of Insurance, and state Probation and Parole, have narrowed their focus to where they believe they'll have the most impact.
"We're working with the District Attorney to put more thought into this in terms of the violent offenders we should be targeting," Geier said. "We don't want to use our precious resources and manpower just to organize short-term tactical plans or warrant roundups and put a Band-Aid on the problem."
#APD and @MayorKeller outline details of the Metro 15 Operation to crackdown on the worst perpetrators of violent crime. https://t.co/y9Ngetz2lX

— Albuquerque Police Department (@ABQPOLICE) November 26, 2019
Chuck Barth, the chief deputy district attorney, said the DA's Office is identifying offenders based on their criminal history, as well as the charges they're facing and why a warrant has been issued. They are also focusing on those who use weapons, especially guns.
"It could range from people who could be serial armed robbers … or people who are enforcers for drugs – they tend to be involved in drug violence, drug deals gone bad," Geier said. "In some cases even domestic violence. I believe we have some serious domestic violence problems that can result in homicides and this is one of the few areas where we can prevent by early detection."
The Metro 15 operation is part of the Violence Intervention Program Mayor Tim Keller and APD announced last week.
"We need these (programs) right away and at least we've been planning and working on these and are ready to roll these out," Keller said Tuesday. "For us, too, I want to remind everyone, the Metro 15 is not about necessarily data or technology; this is about going after the most … we think perpetrators of violence in the Albuquerque area."
Gilbert Gallegos, an APD spokesman, said a list of offenders will be completed next week and will be disseminated to the public. As one person gets arrested, another will be added to the list.
———
©2019 the Albuquerque Journal (Albuquerque, N.M.)
Visit the Albuquerque Journal (Albuquerque, N.M.) at www.abqjournal.com
Distributed by Tribune Content Agency, LLC.