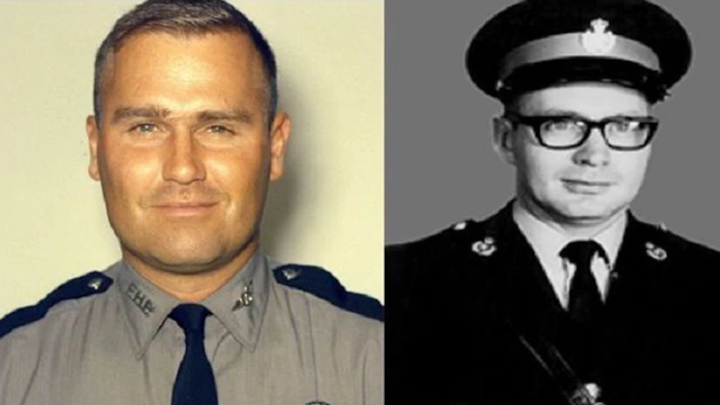 Florida Highway Patrol
DEERFIELD BEACH, Florida -- A portion of Interstate 95 has been renamed to honor a Florida Highway Patrol trooper and a Canadian police officer who were fatally shot over 40 years ago while investigating a suspicious vehicle stopped on the highway near Deerfield Beach.
Ontario Provincial Police Cpl. Donald Irwin was on vacation when he accompanied Trooper Phillip Black on a ride along to observe local law enforcement procedures at the time.
They pulled over at an I-95 rest stop on Feb. 20, 1976. As Black approached the suspicious car he was shot and killed. Irwin was also gunned down as he tried to help Black, the FHP said at a ceremony in Davie Thursday morning.
The 39-year-old Black had been with the FHP for nine years.
The director of the FHP, Colonel Gene Spaulding in Davie this morning with a Canadian police official and survivors of the two officers to highlight the new state law that provides for 29 fallen troopers to be honored with 26 honorary road designations across the state.
The "Trooper Phillip Black and Corporal Donald Irwin Memorial Highway"commemorative roadway sign is placed on I-95 between Northeast 48th Street and Southwest 10th Street through Deerfield Beach.
A similar event in Palm Beach County co-designated Florida's Turnpike between mile markers 100 and 105 as the "Troopers Herman T. Morris and Frederick J. Groves, Jr., Memorial Highway."
The 14-year veteran Groves, 41, was shot and killed, Sept. 15, 1984, during a routine traffic stop of a vehicle loaded with marijuana. Four people were eventually arrested.
Morris, 27, died in the line of duty on March 16, 1972, when another vehicle forced his cruiser to crash into a bridge guardrail.
wkroustan@sunsentinel.com or 954-356-4303 or Twitter @WayneRoustan
———
©2019 the Sun Sentinel (Fort Lauderdale, Fla.)
Visit the Sun Sentinel (Fort Lauderdale, Fla.) at www.sun-sentinel.com
Distributed by Tribune Content Agency, LLC.