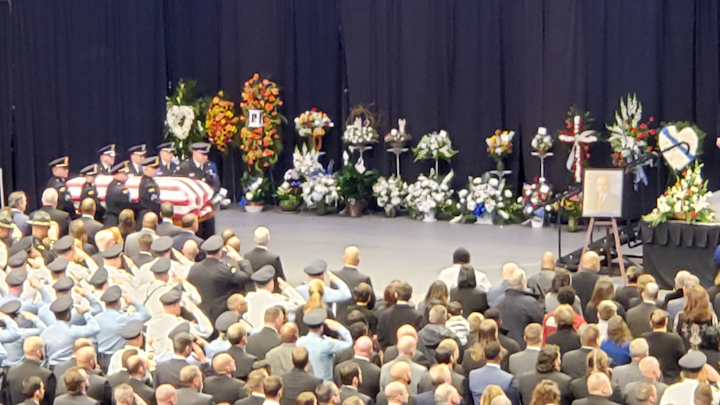 Dayton Police Department
DAYTON, Ohio --The procession for Dayton Police Det. Jorge Del Rio has begun. 
It will wind through the streets of Dayton before ending at Tobias Funeral Home for private services for family and friends.
Despite the frigid temperatures, people were seen waiting outside for the procession so that they can pay their respects to the fallen officer.
UPDATE @ 2:01 p.m.: 
Det. Jorge Del Rio's end of watch dispatch was played following funeral services at UD Arena.
"Your badge number will be permanently assigned to you, as no one can fill your shoes," the dispatcher said. "Rest in peace our friend. We'll take it from here."
A 21 gun salute followed with "Taps" played after.
A riderless horse with boots placed backward in the stirrups was walked in front of the Arena before a flyover.
Pallbearers consisting of Del Rio's colleagues and friends carefully loaded his casket into the hearse for the procession to Tobias Funeral Home, where a private service will take place.
UPDATE @ 1:29 p.m.:
A choir from Westminster Presbyterian Church in Dayton sang "When I Survey the Wondrous Cross" to close out the funeral.
Del Rio's family followed the flag-draped casket out of the Arena to bagpipes playing "Amazing Grace."
A final salute took place outside.
A procession will continue to Tobias Funeral Home for a private service for family.
UPDATE @ 1:13 p.m.:
Dayton Police Chief Biehl said there are "no words" to describe the depth of the sorrow felt in the lose of Del Rio's life.
But still, Biehl said it's important to find the right words.
"It matters a great deal," he said, to honor Del Rio's sacrifice.
Biehl said Del Rio's generous manner was apparent to everyone and that he was a family man.
When Del Rio wasn't at work he was with family and when he was at work he was talking about his family, Biehl said.
He said Del Rio was passionate about food and rejected the typical officer meal of eating in a cruiser, instead inviting people to sit down and eat with him.
Del Rio left a legacy of sacrifice that is rare, even among law enforcement officers, the chief said.
Biehl shared a final wish and blessing for those whose lives were touched by Del Rio. 
May you suffer free of harm, at all times be held in love and be met with compassion, he said.
UPDATE @ 1:08 p.m.:
Keith Martin, DEA special agent in charge of the Detroit Field Division, said there was no finer partner than Del Rio.
"He was an incredible friend and task force officer," Martin said.
Despite his work with the DEA task force, that wasn't Del Rio's legacy.
Instead it was being a father, a husband, a grandfather, Martin said, sharing Del Rio's passion for his family.
Martin thanked Del Rio's for "sharing him with us."
"He was a hero to everyone," he said. "It was an honor to know him."
UPDATE @ 12:57 p.m.:
Steven Miller, DEA resident agent in charge of the Dayton Resident, shared memories of Del Rio's time with the DEA.
He called Del Rio the "king of one liners" and said the detective's favorable opinion of organ donation ended an office discussion about the pros and cons of organ donations.
Miller said that Del Rio was fair, especially while dealing with suspects in the field.
He said the night that Del Rio was shot, other officers were able to quickly get to the injured detective and get him out of him house.
While it took the officers a lot of bravery to go down those steps to get to Del Rio, Miller said, they were also compelled by their love of Del Rio to get him to safety.
He called Del Rio a sheepdog, someone who protects the flock from the wolf.
"Jorge, you were our brother," said Miller. "You were never alone. And we will always love you."
UPDATE @ 12:45 p.m.:
A photo slideshow with pictures of Del Rio and different law enforcement offers' badges with black stripes honoring the detective's death played during the detective's funeral.
Paired with the slideshow was sound and video of different officers sharing their memories of Del Rio and their times serving together.
The grief was apparent in multiple officers' voices as they recalled late nights at work or light-hearted moments as friends.
Some referred to "Del Rio luck," citing his uncanny ability to find great parking spots.
"I love him. I miss him and he's my friend. That's what I'd say to him," one officer.
UPDATE @ 12:30 p.m.:
Ohio Gov. Mike DeWine said that the day Del Rio came to the U.S. was "a lucky one for this country and particularly this community."
He said Del Rio was a natural with unique skills.
"There was no one quite like him," DeWine said. "Once someone met him it was impossible not to like him."
The governor called Del Rio compassionate and warm-hearted, but also cited his sense of humor and charming personality.
He said Del Rio was not a hero because of how he died, but how the detective lived each day.
"We have lost one of our finest," DeWine said.
Montgomery County Prosecutor Mat Heck Jr. shared his deepest sympathies with Del Rio's wife, daughters and grandchildren.
He shared his anger and outrage at Del Rio's death, and promised to get him justice.
Heck called Del Rio a "genuinely nice guy" who multiple people spoke of as a kind person with positive traits.
He said the detective was a professional, team player and a perfectionist.
Del Rio's work "crippled" drug pipelines in the Miami Valley, Heck said.
"Now, we're faced with a difficult challenge as to what we do when we lose a hero," Heck said.
He called on everyone to be brave and to honor Del Rio's service.
Heck thanked the detective for his service and said he hoped Del Rio's family can find peace.
"A person is not dead until he is forgotten," Heck said. "Jorge Del Rio will not be forgotten."
Mayor Nan Whaley said that the year has put a "great strain" on law enforcement, between a KKK rally, mass shooting and tornadoes.
Despite those incident, Whaley said law enforcement rose to the task each time .
She cited Del Rio's often behind the scenes work in helping the community safe, sometimes without public recognition.
Dayton City Manager Shelley Dickstein called Del Rio "an extraordinary public servant" whose work had an impact locally and internationally.
She called on the community to continue to support law enforcement officials as they continue to keep the community safe, as well as his wife and family.
Fraternal Order of Police Lodge 44 Chaplain Christopher Fischer spoke about Del Rio's early life, growing up in Mexico City before moving to the U.S.
He detailed Del Rio's determination in learning English, using comic books , TV and friends to help him with the new language.
Once joining the police force, Del Rio was a "typical rookie," but always came to work in a well-pressed uniform with freshly polished books.
After six years, he was transferred to the narcotics bureau.
Fischer said Del Rio received multiple accommodations, including saving a teenager by diving into a river.
"Whether you're a believer or not, Jorge is a seed that will sustain more life," said Fischer, citing the detective's organ donation and his hard work to get drugs off the street in the Miami Valley.
Dayton Police Chief Richard Biehl opened the services, calling the detective a "noble, selfless public servant."
A slideshow played before the service, showing pictures of Del Rio throughout his life with family, friends and colleagues. 
INITIAL STORY:
Officers, family and friends will say goodbye to Dayton Police Det. Jorge Del Rio during funeral services today.
The 30-year department veteran and DEA task force member died Thursday after he was shot in the line of duty Monday, Nov. 4.
Thousands of people paid their respects to Del Rio and his service during a public visitation Monday at the University of Dayton Arena.
Funeral services are scheduled to start at noon at UD Arena with a final salute to follow in the parking lot.
There will be no public graveside service.
Local and state officials will be in attendance, including Ohio Gov. Mike DeWine, who said he will be one of the speakers during the funeral.
News Center 7 will carry the funeral live on WHIO. A livestream will also be available on www.whio.com and www.daytondailynews.com.
———
©2019 the Dayton Daily News (Dayton, Ohio)
Visit the Dayton Daily News (Dayton, Ohio) at www.daytondailynews.com
Distributed by Tribune Content Agency, LLC.