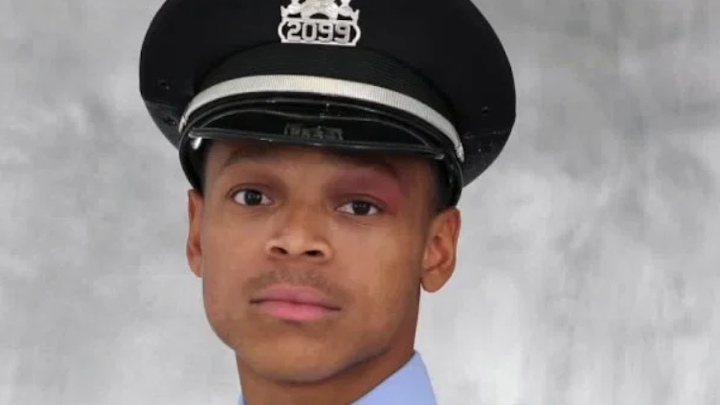 St. Louis Police Department
ST. LOUIS — Police and supporters raised thousands of dollars on Sunday to support Detective Shawn Cleveland, the officer shot and injured at a Normandy High School reunion last month.
Cleveland, 28, has been with the department for five years. He was shot on Oct. 5 along with four other people after a fight broke out in the 10000 block of Crown Point Drive in north St. Louis County.
Cleveland, a graduate of Normandy High School, was shot once in the side. His liver, one of his lungs and one of his kidneys were punctured, police said. He must undergo one more surgery, his mother LaQuitta Lowman said. It's unclear when he will return to work.
"He's healing slow, but he's progressing," Lowman said. "Mentally is the part of it that will take awhile."
Sunday's fundraiser, organized by the Ethical Society of Police and the St. Louis Police Officers Association, included Imo's pizza, drinks, lively karaoke and raffle prizes. Attendees hugged, chatted and laughed while people lined up to sing hits like Beyonce's "Single Ladies" and Lizzo's "Truth Hurts."
Organizers were pleased by the turnout. The event raised more than $15,000.
"(Cleveland) does a lot of work, a lot of overtime," his supervisor Sgt. Rob Lammert said. "This is to help him pay the bills."
Lowman said she and her son were overwhelmed by the support from the police department and the community at large. Lowman is also a police officer, currently working for Metro security, and said she raised her kids to value serving others.
"He's a very passionate person," Lowman said. "Helping people is what he's supposed to be doing. Being a police officer, he helps people. That's what we all do."
Cleveland's friends described him as having a "million-dollar smile." Cleveland's first partner in the field, Det. Rick Van Deutekom, described Cleveland as "solid, dependable and hardworking."
His partner for the past two years, Detective Erica Ellebracht, said when her mother died a couple months ago, Cleveland made a sizable donation to the funeral fund.
"We're trying to be strong for him," Ellebracht said. "We're trying to do what he would do for us. We're sad, we miss him, but we want to help him get better … I want people to know that they couldn't be helping a better guy. He's a good person, and a good detective."
Organizers of the event said anyone wanting to donate to help support Cleveland can go to rebound911.org, click on "donate" and mention Shawn Cleveland in the memo portion of the donation form.
———
©2019 the St. Louis Post-Dispatch
Visit the St. Louis Post-Dispatch at www.stltoday.com
Distributed by Tribune Content Agency, LLC.