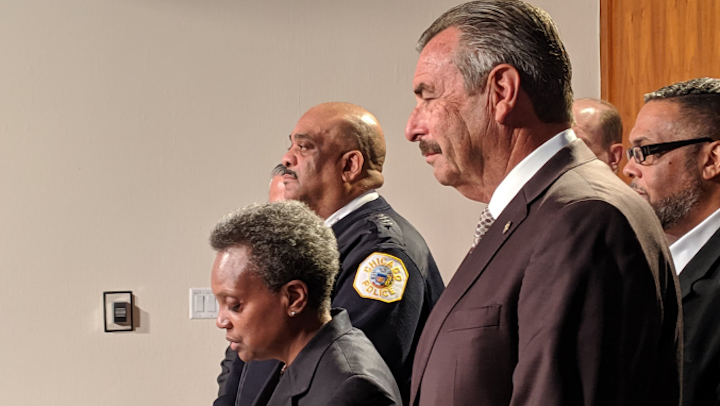 Chicago Police Department
CHICAGO — Mayor Lori Lightfoot announced Friday she's appointing former Los Angeles police Chief Charlie Beck as Chicago's interim police superintendent.
Lightfoot made the announcement for retiring Superintendent Eddie Johnson's replacement at a morning City Hall news conference.
Beck, 66, was a 42-year member of the Los Angeles Police Department, serving 8½ years as chief until his retirement in June 2018.
He served under William J. Bratton, a nationally recognized police leader. But Beck also was credited as a strong leader who supported reforms and community partnership.
Beck's agreeing to take the job means Chicago will, at least temporarily, have guidance from a former head of a large-city police force who has helped lead a department through court-mandated reform but also launched programs that shifted enforcement away from strict reliance on aggressive, arrest-driven policing to more engagement with residents on creating safer communities.
Beck worked his way up the ranks of the LAPD and saw some of its roughest days.
He was there at the time of the 1992 L.A. riots — days of looting, violent crime and other civil unrest prompted largely by the acquittal of LAPD officers on trial for the beating of Rodney King.
A great friend, partner & mentor to the #ChicagoPolice Dept, @LAPDHQ Chief Charlie Beck named Interim-Superintendent of the 13,400 dedicated men & women of the CPD who keep our city safe everyday. Chief Beck will work with Supt Johnson over next two months on formal transition pic.twitter.com/KOQyqNtVFN

— Anthony Guglielmi (@AJGuglielmi) November 8, 2019
Later that decade, the department grappled with a scandal in its Rampart Division that revealed officers physically abused suspects and tampered with evidence. A review showed the LAPD engaged in systematic excessive force, false arrests and unreasonable searches and seizures, leading to /a/ consent decree in 2001.
———
©2019 Chicago Tribune
Visit the Chicago Tribune at www.chicagotribune.com
Distributed by Tribune Content Agency, LLC.