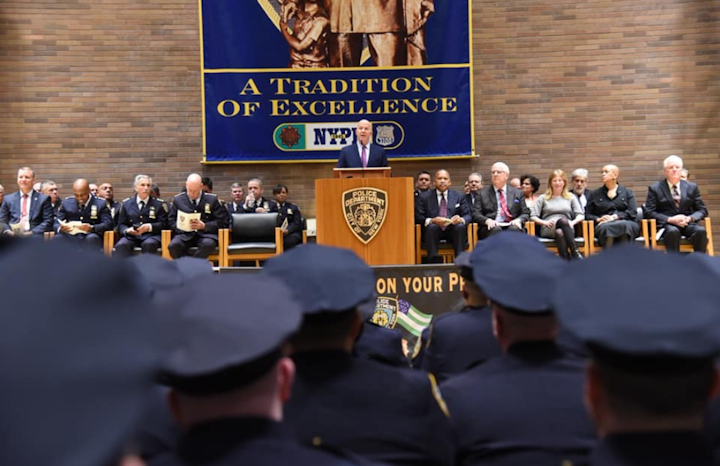 New York Police Department
NEW YORK -- Police Commissioner James O'Neill, who stepped into the role of the city's top cop in September 2016, is retiring, the Daily News learned Monday.
O'Neill, 62, is headed to the private sector after roughly three years on the high-profile job.
He is expected to make his formal announcement at 2 p.m. Monday with Mayor de Blasio.
O'Neill's resignation take affect in several weeks, with Chief of Detectives Dermot Shea replacing him as commissioner, officials confirmed to The News.
"Dermot Shea is a proven change agent, using precision policing to fight crime and build trust between police and communities. As Chief of Crime Control Strategies and then Chief of Detectives, Dermot was one of the chief architects of the approach that has made New York City the safest big city in America. Dermot is uniquely qualified to serve as our next Police Commissioner and drive down crime rates even further," de Blasio said.
Join me at City Hall for a press conference. https://t.co/PePDoGHFL1

— Mayor Bill de Blasio (@NYCMayor) November 4, 2019
"On behalf of all New Yorkers, I want to express deep gratitude to Jimmy O'Neill for dedicating his entire career to keeping our city safe. Jimmy transformed the relationship between New Yorkers and police, and helped to make the Department the most sophisticated and advanced in the country," he added.
The decision by O'Neill follows months of speculation at One Police Plaza that he planned to leave for a job in the private sector and that he was frustrated by what those under him saw as increasingly blurred lines between City Hall and Police Headquarters.
O'Neill, though, said the decision was his.
"What did (ex-NYPD Commission Bill) Bratton say? It's never a good time but it's the right time. I've been the commissioner for three years, I was Chief of Department for two years. I've been a cop for 37 years. that's a long time, man," O'Neill told The News in a brief office interview Monday.
He also dismissed any rumors that friction between him and City Hall forced his hand.
"The mayor's been nothing but supportive of me since I go this job. And he was 100% supportive when I was Chief of Department, with Bratton. He's done a lot for the NYPD," O'Neill said.
He first joined the Transit Police Department in 1983, a decade before it and the Housing Police Department merged with the NYPD.
He was named top cop at the suggestion of ex-NYPD leader Bill Bratton, who cut short his second stint at commissioner to take a high-paying job in the private sector.
On O'Neill's first full day on the job in 2016, 29 people were injured when a bomb was detonated in Chelsea — and a year later eight people were killed in a truck terror attack along the West Side Highway bike path.
O'Neill and the mayor have been in lockstep on what is likely to be the commissioner's signature achievement, Neighborhood Policing, with officers in every command across the city dedicating time specifically to improving community relations. The program was developed after what police critics said was rampant misuse of the department's stop-and-frisk policy.
At the same time, crime has continued to drop, though murders are up this year, and 10 cops have committed suicide in what O'Neill has called a "mental health crisis" for the department. The NYPD is also grappling with a host of criminal justice reforms that he and others in law enforcement said were passed without enough input from police and prosecutors.
Unlike Bratton and his predecessor, Raymond Kelly, who both enjoyed the New York nightlife, O'Neill laid low after hours. He recently moved to Queens, and he likes to spend his weekends riding his motorcycle or his bicycle.
Shea has been Chief of Detectives, the department's second most visible post, since April 2018.
He oversaw a re-working of the Special Victims Division after it was lambasted by a city Department of Investigations report. And he has pushed, either directly or through underlings, for other parties in the criminal justice system to focus more on repeat offenders —"precision policing," as the NYPD calls it.
Shea's star rose rapidly in his previous post, as head of Crime Control Strategies, spending many a Wednesday night in his office poring over crime stats and case files to prepare for the next days Compstat meetings.
On Monday Shea said he was ready to take the NYPD helm.
"This is a tremendous honor and a tremendous responsibility and I'm grateful to the Mayor for this privilege to serve," Shea said. "Police Commissioner O'Neill has been a mentor and a friend to me, and I am committed to building on the incredible success of Neighborhood Policing and precision policing, while continuing my life's work to eradicate gangs and guns from our streets. Every New Yorker deserves to be safe and feel safe, and that has been my mission since I took the oath and became a police officer 28 years ago. As Police Commissioner, this will be what drives me."
———
©2019 New York Daily News
Visit New York Daily News at www.nydailynews.com
Distributed by Tribune Content Agency, LLC.