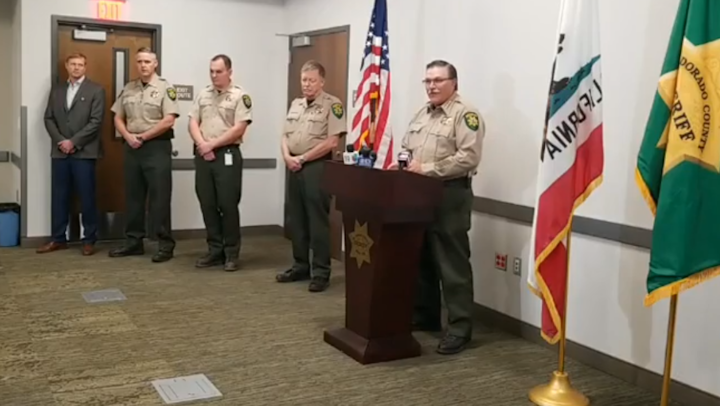 El Dorado Sheriff's Office
EL DORADO COUNTY, California -- The man who called 911 to report his marijuana plants were being stolen — a call that led to the shooting death of El Dorado County sheriff's Deputy Brian Ishmael on Wednesday — has been arrested on a charge of involuntary manslaughter, jail records show.
Christopher Garry Ross, 47, was booked into the El Dorado County Jail and was being held on $50,000 bail, jail records show.
Sheriff John D'Agostini said at a news conference in Placerville Thursday that Ross had been in a marijuana-growing operation with two Mexican citizens and that he falsely reported to 911 that the men were stealing his marijuana, a move that the sheriff said directly led to Ishmael's death.
"Had he been truthful with our deputies and the 911 dispatcher, this tragic event would not have occurred," the sheriff said.
Authorities believe that Ross had agreed to lease the land behind his Somerset home for the other two suspects to grow 75 marijuana plants. But sources have told The Bee that Ross became concerned that he would not receive the full amount he was due to be paid and he called 911 at about 1 a.m. Wednesday to report the two men were stealing his plants.
"What he failed to report was that he had a business arrangement with the persons growing marijuana on his property," D'Agostini said.
Instead, when Ishmael arrived on scene on Sand Ridge Road accompanied by an off-duty San Joaquin County sheriff's deputy who was doing a ride-along, they met with Ross and he told the deputies the men were stealing from him, the sheriff said.
The two deputies went to the grow site and announced their presence, asking the suspects to show themselves, D'Agostini said, but they "were immediately met by gunfire." Authorities suspect the men in the field may have believed they were being targeted in a drug robbery.
Both deputies returned fire, but Ishmael was struck once in a foot and once in his chest just above his vest. He died at the scene within minutes, the sheriff said. The San Joaquin deputy also was wounded in the upper thigh but was treated and released from the hospital Wednesday.
Authorities say one of the men in the marijuana grow, identified as Juan Vasquez, was the gunman and was wounded during the firefight. He was taken to Sutter Roseville Medical Center under arrest and was booked into jail Thursday on homicide and assault with a deadly weapon charges.
Sources have said that suspect's full name is Juan Carlos Vasquez Orozco.
The other suspect believed to have been tending the garden, Ramiro Bravo Morales, 22, was booked into jail on a charge of being an accessory.
Neither Ross nor his wife could be reached for comment Wednesday following the shooting, and the jail was not allowing inmates to do media interviews Thursday because it had no power due to Pacific Gas & Electric's public safety power shutoff.
Scanner traffic collected on Broadcastify.com shows a dispatcher saying the reported marijuana theft was coming from someone named Christopher Ross at the Sand Ridge Road home.
"I have a Christopher Ross on the line advising he sees subjects in his marijuana grow taking plants," the dispatcher tells Ishmael.
It was not clear Thursday whether the district attorney had filed charges in the shooting because the county's court website was down due to the ongoing "public safety power shutdown."
D'Agostini said some elements of the case may be turned over to U.S. Attorney McGregor Scott's office for prosecution, but did not provide specifics. The sheriff also said that he did not know – and under state law could not ask federal authorities – if the Mexican citizens were in this country legally.
The slaying of the 37-year-old deputy, a four-year veteran of the office and a husband and father of three small children, has shaken the community and Ishmael's colleagues, the sheriff said.
Along Highway 50 from Cameron Park to Placerville Thursday blue ribbons adorned freeway overpasses, lampposts and trees. One overpass had a sign that read, "Deputy Brian Ishmael you're a hero."
"We're doing as best as can be expected," D'Agostini said. "This is tough for anybody.
"Law enforcement is a very tight family, and we have to be to survive this profession. When we lose one it's like losing a brother, a son."
Ross' home is in a rural area in the community of Somerset, and a neighbor who lives across the road told The Bee Wednesday that the Ross home resembles a "junkyard" and that he has been smelling the pungent aroma of marijuana for weeks.
"I could smell it when I drove by there for days, for weeks," Robert Locke said. "You could definitely smell that skunk weed."
———
©2019 The Sacramento Bee (Sacramento, Calif.)
Visit The Sacramento Bee (Sacramento, Calif.) at www.sacbee.com
Distributed by Tribune Content Agency, LLC.