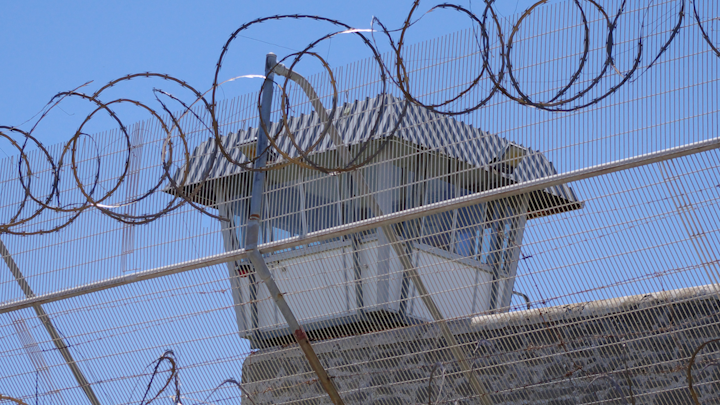 Dreamstime/TNS
TAFT, Oklahoma — Over 400 inmates were released from prisons across the state Monday — 70 of which came from Eddie Warrior Women's Correctional Facility.
The releases represented the end result of a series of recent state laws which began in 2016 with successful passage of State Question 780, which reclassified some drug felonies as misdemeanors. In May 2019, Governor Kevin Stitt signed House Bill 1269 into law, making SQ780 retroactive to prisoners already convicted prior to the question's approval.
As the women emerged from the gated house near the prison's exit, they each shook hands with Stitt, waded through the crowd to find their loved ones, then fell into their arms, often crying.
Donnie Crow certainly cried as she took one of her children into her arms, surrounded by her mother Connie Copeland and her fiance, Christopher Davis. Crow, who was jailed in 2018 for possession of marijuana, had roughly seven more years of her sentence ahead of her before her sentence was commuted.
"This feels great, this feels like a blessing," Crow said. "I'm so happy I get to be home with my kids."
Copeland could barely hold back the tears as she welcomed her daughter back to freedom. Crow's children crowded around them, hoping to get a hug from their mom.
"I'm just very surprised that this happened, and I'm very excited and happy to see my daughter and let her see her babies," Copeland said.
Douglas Lynch was equally happy to see his wife Stephenie Jeffreys following her release.
"It's just wonderful. I was waiting for her to get out and now it's here," Lynch said. "I'm very excited and proud of her."
Jeffreys said she was thankful for the chance to leave the prison.
"I'm grateful," she said. "This is just a great thing for us."
When HB 1269 went into effect Friday, that led to over 800 reviews by the Oklahoma Pardon and Parole Board, who in turn recommended 527 inmates for commutation, says a release from the governor's office.
According to that same release, the reduced sentences were the largest single group of commutations in national history.
"Fellow Oklahomans. This is the first day of the rest of your lives," Stitt told the gathered crowd in a ceremony following the women's release. "We are beside you."
The former inmates not only heard from Stitt, but people from legal and employment sectors about what their next steps should be.
"There are 4,000 manufacturers in Oklahoma welcoming you to jobs and opportunities," said Dave Rowland of the Muskogee Manufacturing Alliance, who was on hand to speak with potential hires. "We're excited to help you and accept you."
For Tess Harjo, who was in Eddie Warrior for 22 months prior to her release, it didn't seem real, she said. Harjo was jailed for possession of methamphetamine, which would have seen her spend 15 years in prison, she said.
"I keep thinking I'm going to have to go back in there," Harjo said. "It just feels crazy to think that I don't have to go back. I keep forgetting I can do what I want now. I'm free."
Now, Harjo plans to pursue her education, which she began while incarcerated by getting her GED and taking classes through Connors State College.
"I'm going to go into communications," she said. "I'm good at talking to people. That's what I want to do."
In the immediate future, though, Harjo plans to go celebrate with food, she said.
"I hope my family takes me to Olive Garden," she said. "I want to go eat."
———
©2019 the Muskogee Phoenix (Muskogee, Okla.)
Visit the Muskogee Phoenix (Muskogee, Okla.) at muskogeephoenix.com
Distributed by Tribune Content Agency, LLC.