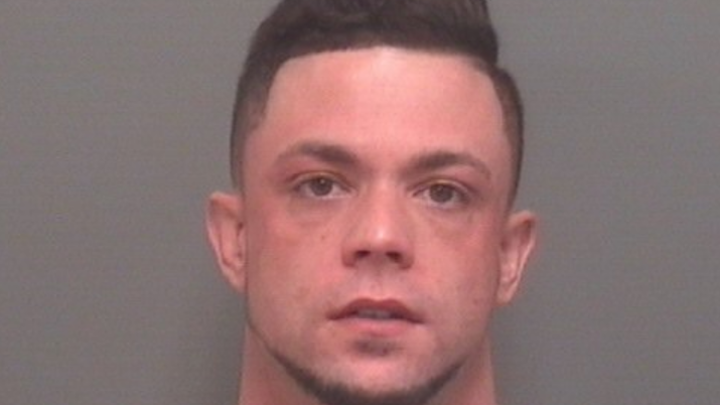 Morgan County Sheriff's Office
DECATUR, Alabama -- A man, who faces charges of drug trafficking, attempted murder and more, escaped from the Morgan County jail in Decatur Monday, the authorities said.
John Kaleb Gillespie, 30, is described by the authorities as 6 feet tall and about 180 pounds. Details about how he escaped haven't yet been released.
Anyone who sees Gillespie is asked to call 911. Morgan County sheriff's office officials said the public shouldn't approach Gillespie because he has a "violent history with Law Enforcement."
Gillespie has been in the Morgan County jail since he was arrested Nov. 23, 2018 following a standoff with police in Decatur. At the time, he was wanted on charges of drug trafficking and attempted murder of a state trooper.
Lyndon McWhorter, the police chief of Moulton, a small city in neighboring Lawrence County, told AL.com by phone today that Gillespie is still facing the attempted murder charge. In that case, Gillespie is accused of trying to run over a state trooper during a chase in Moulton, the authorities said. That chase was one of at least four pursuits during which Gillespie got away from Lawrence County law enforcement in a month.
In Morgan County, Gillespie was jailed on charges of marijuana trafficking, attempting to promote prison contraband and violating Alabama's sex offender registration laws, records show. He was held without bail.
Gillespie has been required to register as a sex offender in Alabama since October of 2009 when he pleaded guilty to two charges of statutory rape in Morgan County, court records show.
Last updated at 4:36 p.m. with more information about Gillespie's sex offender status.
———
©2019 Alabama Media Group, Birmingham
Visit Alabama Media Group, Birmingham at www.al.com
Distributed by Tribune Content Agency, LLC.