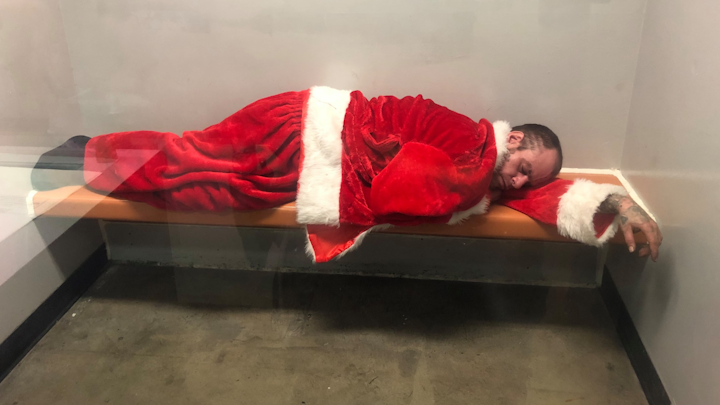 Brea Police Department
BREA, California --  The Brea Police Department in Orange County, Calif., took to social media Tuesday to share a message from a man in a Santa Claus suit sleeping inside a jail cell.
The post to Twitter, which is composed as a letter, reads, "Dear Santa, I'm sorry I stole your red suit. I was drunk and made some poor choices. I know it's only October. And it's hot. Too hot for this suit. But I was drunk. Poor choices."
It's signed, "Sincerely, Drunk Santa Suit Criminal."
The man in the suit was arrested for burglary, according to Fox 11 in Los Angeles. The police said he is a suspect in the burglary of a storage shed from a church, where he may have gotten the Santa suit, the station reported.
Police said he appeared to be under the influence of alcohol or drugs when officers found him inside his car. They have not released his identity.
The post has been liked over 400 times, but some people objected to the photo, replying "This real? If so isn't this illegal?" and "He was drunk. Y'all are sober. What's your excuse for shaming the guy on social media? Please be better than this."
Frank Carnevale is a Tribune-Review digital producer. You can contact Frank via Twitter .
———
©2019 The Tribune-Review (Greensburg, Pa.)
Visit The Tribune-Review (Greensburg, Pa.) at www.triblive.com
Distributed by Tribune Content Agency, LLC.